Tropical Cyclone Uesi Threatening Lord Howe Island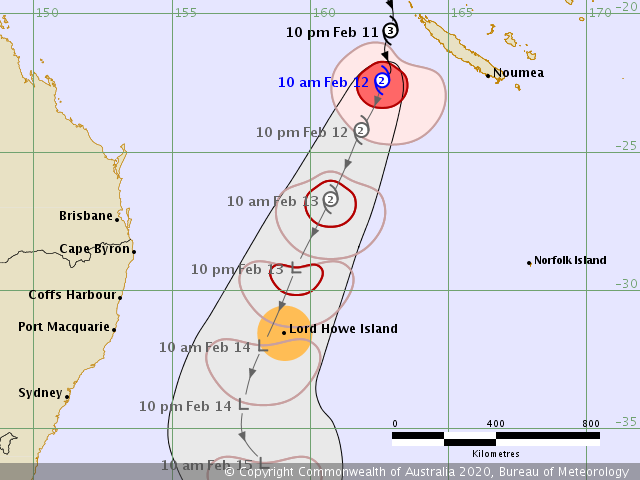 Tropical Cyclone image courtesy of the Bureau of Meteorology.
The Bureau of Meteorology has issued a warning for Tropical Cyclone Uesi, amid fears we could see it reach an island off New South Wales on Valentine's Day.
The Category Two system is moving towards Lord Howe Island, off the coast of Port Macquarie in New South Wales.
TROPICAL CYCLONE WATCH LORD HOWE ISLAND Number 2: Heavy rain and gales with gusts to 120 km/hr are expected to develop about Lord Howe Island late on Thursday afternoon or early evening. Warning: https://t.co/hMyYkQYAAO NSW SES StormSafe info: https://t.co/zlINR378w8 pic.twitter.com/pnYGGsfDIj

— Bureau of Meteorology, New South Wales (@BOM_NSW) February 12, 2020
Details of Tropical Cyclone Uesi at 10:00 am AEST:
Intensity: Category 2, sustained winds near the centre of 110 kilometres per hour with wind gusts to 155 kilometres per hour.
Location: within 85 kilometres of 22.4 degrees South 162.6 degrees East, estimated to be 1080 kilometres north northeast of Lord Howe Island and 395 kilometres west of Noumea.
Movement: south at 19 kilometres per hour.
Tropical Cyclone Uesi, category 2, is located west of Noumea and is moving southwest towards Lord Howe Island.
The cyclone is expected to transition to an extra-tropical system, meaning it will maintain its intensity in its southern quadrants as it moves close to or to the west of the island on Friday morning.
Hazards:
Gales with gusts to 120 km/hr are expected to develop about Lord Howe Island late on Thursday afternoon or early evening. Higher wind gusts to 140 km/hr may occur during the night as the centre of the transitioning tropical cyclone moves closer to the island.
As the system approaches, heavy rain will gradually increase from Thursday afternoon becoming heavier in the evening and overnight. Seas likely to become very rough with large waves developing near coast.
Recommended Action:
The NSW State Emergency Service advise you:
- The Community and Visitors to Lord Howe Island should commence preparations, especially securing boats and property.
- Check your property for erosion or inundation by sea water, and if necessary raise goods and electrical items.
- Stay out of the water and stay well away from surf-exposed areas.
For emergency help in floods and storms, ring the Lord Howe Island Police on [02] 6563 2199.
Next Advice:
The next advice will be issued by 2:00 pm AEST Wednesday 12 February.
This warning is also available through TV and Radio Broadcasts; the Bureau's website at www.bom.gov.au or call 1300 659 210. The Bureau and the State Emergency Service would appreciate this warning being broadcast regularly.