Vogue Cover: Billie Eilish Like You've Never Seen Before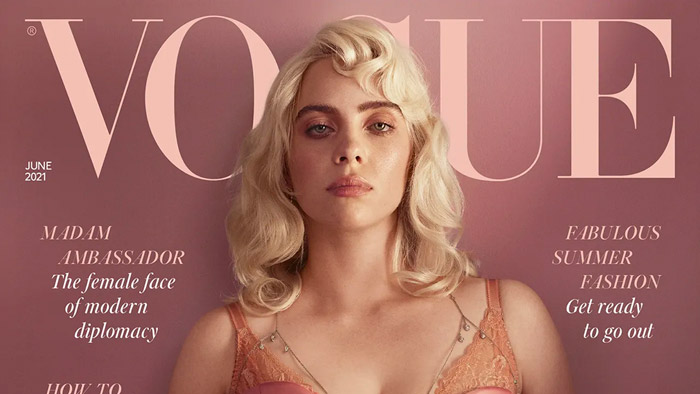 Billie Eilish has stunned fans with the release of her Vogue cover which has managed to reach one million likes on Instagram in six minutes. One photo she posted on Instagram already has 17 million likes.
Showcasing her new blonde look, the nineteen-year-old pop star posted the cover image of the June 2021 Issue Of British Vogue in which she's wearing a custom Gucci corset and skirt along with a bra, panties, latex gloves, and jewellery.
Eilish posted a set of four images from the editorial in which has been called a transformation for the cover star. It's revealed she came with the idea to show more of her body for the first time in a fashion story.
Her previous look was darker, and she was known for her neon green, jet-black hair and baggy clothes. It was even revealed that she wore a wig with her old hairstyle before revealing the new look to the public. Apparently, it took four dye sessions to erase her signature look.
She captions one of the images:
"i love these pictures and i loved doing this shoot. do whatever you want whenever you want. f**k everything else."
The new look comes after the announcement of her new album "Happier Than Ever", out July 30 and the recent release of her latest single, 'Your Power.'
Image Credit: (@billieeilish / Instagram)