Best of the Oscars Red Carpet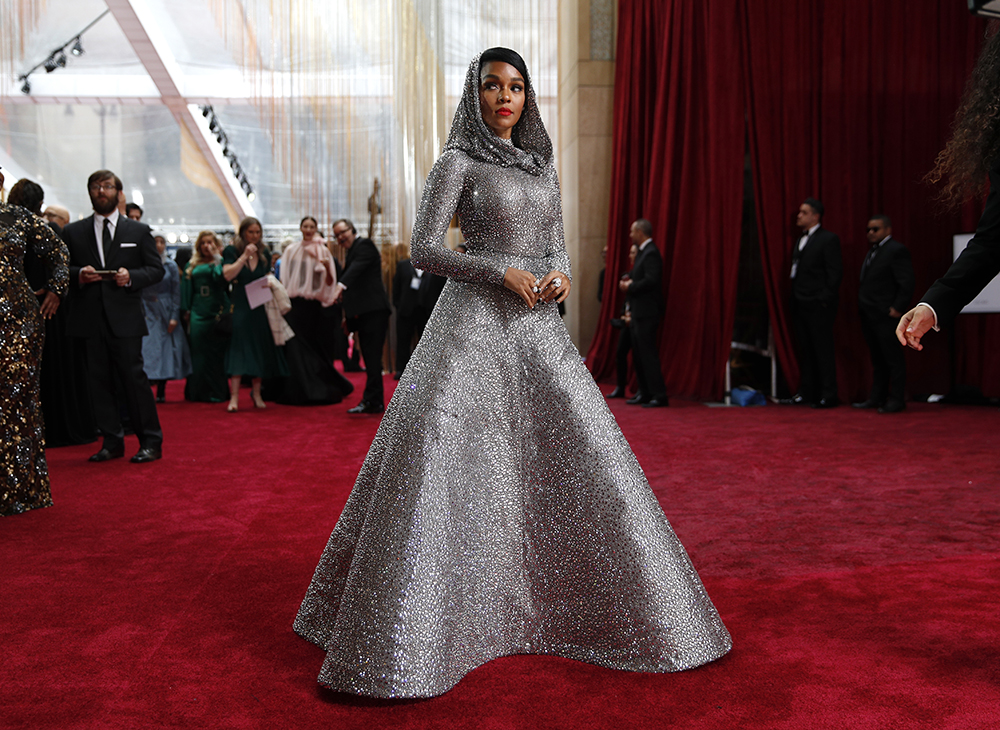 Janelle Monae (pictured) was one of very few Hollywood stars to take a "fashion risk" at this year's Oscar (AP Photo/John Locher)
It is the biggest night of nights for Hollywood stars, the 92nd Academy Awards.
Currently, underway in Los Angeles, the red carpet was marred early with heavy rains putting an early dampener on the glitz and glamour. However, stars braved the cold and wet and gathered together for a night of glitz and glam.
The ceremony has again gone hostless opting instead to have a vast array of celebrity guests announcing the awards.
Hollywood A-Listers kept red carpet looks this year "classic" with subtle shades of pink as the dominating fashion choice. Princess and other classic silhouettes were also a popular choice with the stars, with fewer opting to take fashion risks this year.
We've done a close inspection of 2020 Oscars red carpet looks and handpicked some of our favourites and not so favourites.
Enjoy!
Renee Zellweger
Renée Zellweger flourishing at the #Oscars pic.twitter.com/o0SooRJ6cU

— Vulture (@vulture) February 10, 2020
Brie Larson
.@brielarson and a cape! #Oscars pic.twitter.com/uoIwqSmccr

— Vulture (@vulture) February 10, 2020
Sandra Oh
.@IamSandraOh's #Oscars dress!!! pic.twitter.com/XB168uYU77

— Vulture (@vulture) February 10, 2020
Laura Dern
The very first recipient of Vulture's Master of Culture, miss @LauraDern, has arrived. #Oscars pic.twitter.com/bDfz6Wm21i

— Vulture (@vulture) February 9, 2020
Regina King
Regina King at the 2020 #Oscars pic.twitter.com/aQP2vCH2ry

— MEFeater Magazine (@mefeater) February 9, 2020
Spike Lee
Spike Lee showed up at the #Oscars paying tribute to Kobe Bryant in a Lakers inspired suit pic.twitter.com/5aUJefTOTE

— Vulture (@vulture) February 9, 2020
Charlize Theron
Charlize Theron looks absolutely stunning on the #Oscars red carpet. pic.twitter.com/1Qcl18p6ef

— Pop Crave (@PopCraveMusic) February 10, 2020
Rebel Wilson
.@RebelWilson looks stunning on the #Oscars red carpet. pic.twitter.com/BNnmiveaTK

— Pop Crave (@PopCraveMusic) February 10, 2020
George MacKay
#GeorgeMacKay looking dashing on the #Oscars red carpet. pic.twitter.com/fEVjNtj2To

— Pop Crave (@PopCraveMusic) February 9, 2020
Billy Porter
.@TheeBillyPorter looks incredible on the #Oscars red carpet. (📸: Kevin Mazur/Amy Sussman) pic.twitter.com/AXMuL7t7Po

— Pop Crave (@PopCraveMusic) February 9, 2020
Billie Eilish
.@BillieEilish stuns on the #Oscars red carpet. pic.twitter.com/TCM6vciJ56

— Pop Crave (@PopCraveMusic) February 9, 2020
Cynthia Erivo
It's a big night for all the stars here. But Cynthia Erivo may have the most to gain from an #Oscars victory tonight. 🏆🏆🏆🏆 https://t.co/CA2NFtkGM0 pic.twitter.com/samn3nxHHt

— Entertainment Tonight (@etnow) February 10, 2020
Scarlett Johansson
Scarlett Johansson is stunning as always at the #Oscars! https://t.co/FfRzHuhzkR pic.twitter.com/OOQOXbJvKX

— Entertainment Tonight (@etnow) February 10, 2020
Brad Pitt
The man of the hour has arrived! Brad Pitt has hit the #Oscars red carpet… but where is Jen? 👀 https://t.co/FfRzHuhzkR pic.twitter.com/g0oFec66aR

— Entertainment Tonight (@etnow) February 10, 2020
Joaquin Phoenix
Joaquin Phoenix looks cool as a c̶u̶c̶u̶m̶b̶e̶r̶ clown on tonight's #Oscars red carpet. 🕶 https://t.co/FfRzHuhzkR pic.twitter.com/5mMSd9fBQV

— Entertainment Tonight (@etnow) February 10, 2020
Margot Robbie
Stunning as always #MargotRobbie 🌟 #Oscars pic.twitter.com/xuBcKxSwwj

— What's Trending (@WhatsTrending) February 10, 2020
Natalie Portman
#NataliePortman included the names of amazing female directors in her #Oscars look. I love her. pic.twitter.com/po0LMryftg

— What's Trending (@WhatsTrending) February 10, 2020
Olivia Colman
Olivia Colman arrives on the #Oscars red carpet debuting new blonde hair look. See all of the red carpet arrivals: https://t.co/yj5tSkxDeh pic.twitter.com/GR9Hm6b01Y

— British Vogue (@BritishVogue) February 9, 2020
Sigourney Weaver
Sigourney Weaver shines on the #Oscars red carpet in an emerald @Dior gown. See all of the best dresses from the #Oscars2020 red carpet live: https://t.co/yj5tSkxDeh pic.twitter.com/6zXtwOiWwP

— British Vogue (@BritishVogue) February 9, 2020
Florence Pugh
Florence Pugh. 😍 #Oscars pic.twitter.com/q3wSHjnV00

— Entertainment Weekly (@EW) February 10, 2020