Best of BAFTA's Fashion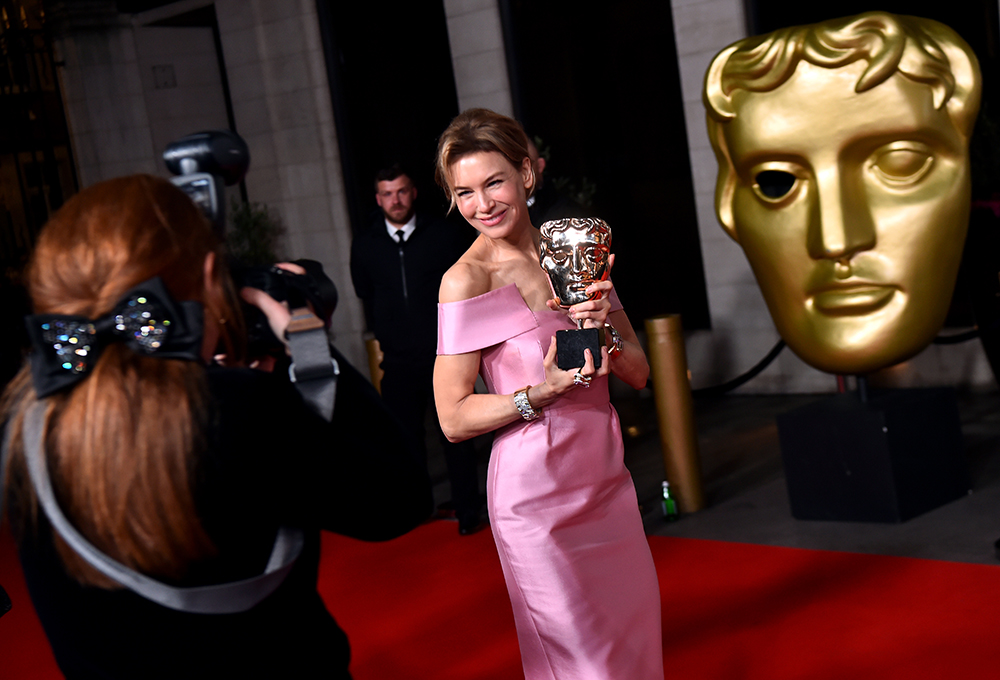 Renee Zellweger (pictured) winner of Leading Actress for the film 'Judy' poses with her BAFTA award (Matt Crossick/PA Wire)
The 73rd British Academy Film and Television Awards (commonly referred to as the BAFTAs) took place overnight in London.
The ceremony held at London's Royal Albert Hall was hosted for the first time by Graham Norton and featured a dress code that called for celebrities to re-wear something they already own or chose a sustainable option.
While we were very keen to see who took home the awards (1917 dominated the awards with seven wins including best film and best director Sam Mendes), we were also frothing over the fashion!
We've done a close inspection of 2020 BAFTA red carpet looks and handpicked some of our "best and worst" dressed.
Which choices stand out for you?
1. The Duke and Duchess of Cambridge
The Duke and Duchess of Cambridge arrive at tonight's @BAFTA Awards ceremony #EEBAFTAs pic.twitter.com/KitwMdmZjS

— Kensington Palace (@KensingtonRoyal) February 2, 2020
2. Zoe Kravitz
.@zoekravitz shines on the #BAFTAs red carpet. See more: https://t.co/DL2tgw0fSC pic.twitter.com/01n5UqAycf

— Vogue Magazine (@voguemagazine) February 2, 2020
3. Renee Zellweger
Renée Zellweger is pretty in pink at the #BAFTAs. See more from the red carpet: https://t.co/27au6ggA9d pic.twitter.com/9IupWQwjJp

— Vogue Magazine (@voguemagazine) February 2, 2020
4. Florence Pugh
.@florence_pugh arrives at the #BAFTAs. See more from the red carpet: https://t.co/MnM6WsnDTt pic.twitter.com/31WoSKpgGj

— Vogue Magazine (@voguemagazine) February 2, 2020
5. Margot Robbie
.@margotrobbie hits the #BAFTAs red carpet. See more: https://t.co/CWIarCaJp0 pic.twitter.com/3Zq3sOrfEv

— Vogue Magazine (@voguemagazine) February 2, 2020
6. Charlize Theron
.@CharlizeAfrica stuns on the #BAFTAs red carpet. See more: https://t.co/UFEwM7wrD4 pic.twitter.com/NlrgKXba6G

— Vogue Magazine (@voguemagazine) February 2, 2020
7. Olivia Colman
Olivia Colman is all smiles at the #BAFTAs. See more from the red carpet: https://t.co/86B2UhOzYS pic.twitter.com/F2aaCHD0sG

— Vogue Magazine (@voguemagazine) February 2, 2020
8. Scarlett Johansson
Scarlett Johansson arrives at the #BAFTAs. See more from the red carpet: https://t.co/eJdUzbG9Xe pic.twitter.com/15r8XwaEN5

— Vogue Magazine (@voguemagazine) February 2, 2020
9. Joaquin Phoenix
Joaquin Phoenix arrives at the #BAFTAs. See more from the red carpet: https://t.co/K8AU5wwsTS pic.twitter.com/rlIF5FlLfj

— Vogue Magazine (@voguemagazine) February 2, 2020
10. Emilia Clarke
.@emiliaclarke has arrived at the #BAFTAs! See every look from the red carpet: https://t.co/QctAwD3o6r pic.twitter.com/FCPpZTglfI

— Vogue Magazine (@voguemagazine) February 2, 2020
11. Laura Dern
To this year's @bafta awards, @lauradern, who won Best Supporting Actress for Marriage Story, wore a velvet dress embroidered with feathers, pearls and red rhinestones from the #ValentinoHauteCouture Beijing collection by #PierpaoloPiccioli. #EEBAFTAs pic.twitter.com/3I82OFdTsv

— Valentino (@MaisonValentino) February 2, 2020
12. Jodie Turner-Smith and Joshua Jackson
Jodie Turner-Smith and Joshua Jackson win best dressed couple at the 2020 #BAFTAs. https://t.co/35IELwp2L5 pic.twitter.com/mgBX4CnQKf

— Vogue Runway (@VogueRunway) February 2, 2020
13. Taika Waititi
Great to see still more recognition for Taika Waititi's film Jojo Rabbit, this time at the BAFTAs:https://t.co/A0VpVtVurS pic.twitter.com/Q3ZlI7LCvE

— Alfredo Pérez Bravo (@PerezBravoA) February 2, 2020
14. George MacKay and Dean Charles Chapman
George MacKay and Dean Charles Chapman at the EE British Academy Film Awards 2020 in London. pic.twitter.com/ZLKthT9Uo8

— Best of George Mackay (@BestofGMackay) February 2, 2020
15. Graham Norton
Baftas 2020 red carpet: Joaquin Phoenix leads stars at the Royal Albert Hall: Host Graham Norton and Sex Education's Gillian Anderson also hit the red carpet ahead of the main event https://t.co/7tckvHNUXH pic.twitter.com/6gpDIicGb2

— RushReads (@RushReads) February 2, 2020